Steve's Conclusion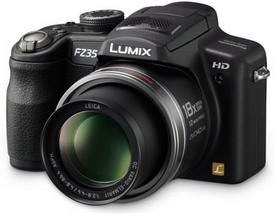 Steve's SnapShot
12.1-Megapixel Imaging Sensor
2.7-Inch LCD Screen
0.20-inch EVF
18x Leica Optical zoom lens: 27-486mm (35mm equivalent)

iAuto (intelligent auto) mode

AVCHD Lite Video Capture
Power O.I.S.
Stereo Microphone
Li-Ion Battery power source

SD/SDHC memory card compatible

40MB internal memory
Pros
Excellent image quality
Powerful 18x optical zoom

Effective Power O.I.S. system

Awesome AVCHD Lite Video Quality
Stereo Microphone
470 images per battery charge
Fast AF (3/10 second)

Cons
No Audio Input
Slower than listed start-up time
Large number of menu options (can be considered good or bad, depending on the user)
Timing Test Results
Power up to first image captured = 2.0 seconds
Shutter lag when prefocused = less than 1/10 of a second
Shutter lag with autofocus = 3/10 of a second
Shot to shot delay wo/flash = 1.1 seconds
Shot to shot delay w/flash = 1.66 seconds
Sequential burst = 3.33fps (3 images)
High Speed Sequential burst = 7.69fps
Bottom Line
Panasonic's Lumix FZ35 is an easy-to-use, full-featured Super-zoom digicam. Featuring an 18x optical zoom lens, 12.1-Megapixel imaging sensor, AVCHD Lite Video capture and slew of scene and creative shooting modes, this camera is a great choice for anyone in the family.

Pick This Up If...
You are looking for a Super-zoom digicam with a powerful optical image stabilization system (Power O.I.S.) or if you are interested in a hybrid style camera that is capable of excellent HD video quality along with superb still photos.
Panasonic's Lumix DMC-FZ35 is their latest Super-zoom model, featuring an 18x Leica DC VARIO-ELMARIT zoom lens with their Power O.I.S. (optical image stabilization). With the Power O.I.S. being twice as effective as their original MEGA O.I.S. system, the camera can easily be handheld throughout the zoom range without showing the effects of camera shake. Also assisting with the low-light shooting, the maximum aperture of F/2.8 allows for faster shutter speeds at the wide end, which is perfect for late evening and night landscape shots.
Complimenting the 18x optical zoom lens is a 12.1-Megapixel imaging sensor, iAuto (intelligent auto) shooting mode, High Speed and Tracking AF modes, and AVCHD Lite with custom and creative still and video shooting modes. Several of the Scene shooting modes include several sub-modes, such as Portrait, which has options for normal, soft skin, indoor, outdoor and creative settings to choose from. These advanced modes also include Scenery, Sports, Night Portrait and Close-up. iAuto is another great feature that not only completely takes care of the still image settings for the best image possible for your current shooting settings, but it also works when capturing video.
For a Super-zoom model, the FZ35 is on the light and compact side, which is great for carrying the camera around for a day of shooting. It is larger than a compact, but can easily fit into a purse or small camera bag. Its weight and size allows you to operate it with one hand without too many difficulties. Panasonic's Power O.I.S. makes it very easy to shoot using the full telephoto zoom without a monopod or tripod and still get sharp images. All of the camera's controls and buttons are clearly marked and easy to use, making it easier to navigate through the camera's many settings and menus. Your images can be framed and viewed either on the camera's 2.7-inch LCD screen or through the EVF. Either option gives you the full list of shooting information. The LCD is easy to see in all lighting conditions, but in direct sunlight the EVF will be much easier to see.
Performance from the FZ35 is very good. It is a little slower than the 1.2 second startup time that Panasonic claims, but it was able to capture its first image in just 2.0 seconds. The shutter lag is less than 1/10 of second when the camera is pre-focused and between 3/10 and 6/10 of a second when allowing the autofocus to work depending on light and distance. When the camera is in high-speed autofocus, 3/10 is possible all the time. In single shot mode, the camera is able to capture 5 images in 5.8 seconds without the flash or 5 images in 8.3 seconds when the flash is in use. Using the continuous shooting mode, I was able to capture 3 full sized images in just 9/10 of a second before the camera stopped capturing images. This comes up short of the 5 images that Panasonic claims that the camera is capable of. There is also a scene mode, "Hi-Speed Burst", that was able to capture 10, 3-Megapixel images in just 1.3 seconds. While this is a much lower resoltuion setting, these photos still have plenty of detail and size to produce nice 4x6-inch or even 8x10-inch photos. All of our tests were completed using an ADATA Class 6, 16GB SDHC memory card, Program Mode, ISO Auto, Flash Off and all other settings at the factory defaults unless noted otherwise. All times may vary depending on lighting, camera settings, media, etc.
Our outdoor sample images show that the camera captures a crisp, well exposed image with very pleasing color. Thanks the 18x optical zoom lens, no matter where or what you are shooting outdoors, this camera is going to give you what you need. At 27mm (35mm equivalent), the wide end of the zoom is capable of vast landscapes, while at the 486mm telephoto end of the zoom you will be able capture a close-up of a subject that is way off in the distance. This is a big advantage over most digital cameras, including most dSLR lenses that do not have this degree of versatility. With this versatility you will see some barrel distortion on the wide end of the zoom, while chromatic aberrations are controlled very well throughout.
Shooting our M&M man shots indoors shows us that the camera's ability to handle lower light situations is very good. With and without the flash we see good exposures and accurate colors. At the lower ISO settings (80-200) our images are crisp and show a lot of the fine detail within the image.
ISO 400
and
800
start to lose some of the fine detail, while at
ISO 1600
the image starts to become a little soft. All of these "higher ISO" settings are capable of producing excellent prints 8x10 and smaller. Assisting with your low-light shooting, Panasonic has included a powerful pop-up flash with a range from 0.9ft. to 27.9ft. when shooting at the wide end of the zoom (ISO Auto). At the telephoto end of the zoom the flash has a range of 3.3ft. to 17.7ft., which gives the ability to take close-up shots with the flash from across a medium to large room without any trouble.
Portrait photography is a snap when the camera is either in iAuto with face detection turned on or when the camera is in one of the Portrait modes. The camera's face detection works very well, quickly finding any faces within the frame and following them as they move. Our indoor samples show excellent exposures of the subject with realistic colors and skin tones. In low-light situations, the camera likes to stick to ISO 400 which shows some noticeable noise when viewing them at 100%, but won't be noticeable when having prints made. In portrait mode, the Red-Eye Reduction flash automatically fires when a face is detected, eliminating any red-eye in your subjects.
With the dedicated video record button and excellent HD video quality, the FZ35 could be considered a hybrid still-video camera as well as a Super-zoom still camera. This camera has the ability to do a few things that most digicams are not able to. First the FZ35 has been designed to allow the user to have full use of the 18x optical zoom while recording. There are several video shooting modes, including iAuto and Creative movie modes that change the camera from a fully automatic video camera to giving the videographer most of the control, allowing for more creative videos. Panasonic has also included a stereo microphone system for a better audio experience. All of this can be captured by the camera in the AVCHD Lite video format. This format allows for a very high quality, high compression video to be captured, while taking up less space on the memory card than the standard motion JPEG videos that most cameras capture.
Shooting with the AVCHD Lite compression produced excellent video and audio quality. Even in low light situations, you do not see any noise in the videos. The camera quickly focuses and does a good job of staying focused on a moving subject. Playing back your videos can be done either on the camera's LCD, standard TV or HDTV. You get VCR/DVR-like controls that allow you to play, pause and search through your images one frame at a time. The stereo mic is very sensitive, just like any other built-in mic, and will pick up any noises that are present around the camera. The lack of a microphone input is a little disappointing, as the improved sound quality would be a great addition to the high quality video captured by this camera.
Powering the FZ35 is a 7.2V, 695mAh Li-Ion battery that is capable of capturing up to 470 images on a single charge (CIPA standards). While completing our tests, we were able to capture approx. 250 images and several videos, while still having plenty of battery power left to continue shooting. This is excellent battery performance that should easily last a full day or weekend of casual shooting. We still recommend having a spare battery as a backup just in case. With included external charger, it is easy to keep both batteries charged all the time.
Bottom Line - Panasonic's Lumix DMC-FZ35 is a full-featured Super-zoom camera that can be used by anyone. Sporting an 18x optical zoom lens, Power O.I.S., 12.1-Megapixel imaging sensor and one-touch AVCHD Lite video recording, it is incredibly hard to find a camera that has more features. The FZ35 is also loaded with creative shooting modes and features which are perfect for anyone looking to get a little more out of their images. With great image quality and performance, an MSRP of US $399.95 makes this a great option whether you are looking for a Super-zoom or a Hybrid video/still camera. Other Super-zoom options in this category include the
Sony Cybershot DSC-HX1
($479.99) or the
Canon PowerShot SX20 IS
($399).
Visitors of Steves can visit the stores below for real-time pricing and availability. You can also find hot, soon to expire online offers on a variety of cameras and accessories at our very own Camera Deals page.