Olympus FE-140 Zoom Review
Olympus FE-140 Zoom Review
Features & Controls
The FE-140 features a 3x optical Olympus zoom lens with a 38mm-114mm (35mm equivalent) focal length and a maximum aperture of f3.1-f/5.9. This is an all-glass lens constructed of 6 lenses in 5 groups.
When powered down the lens retract inside of the body and is protected by an automatic lens barrier.
Equipped with a low-light AF-assist lamp, the contrast detection autofocus system has a range of 23.6" (0.6m) - infinity in normal mode. The Macro mode coverage is from 3.9" " (0.1m) - infinity and Super Macro focuses as close as 2" (5cm).



The built-in speedlight has modes for: Auto, Red-eye Reduction and Fill-in. The maximum working range in wide angle is 0.7 ft. (0.2m) - 10.8 ft. (3.3m) and 2.0 ft. (0.6m) - 6.6 ft. (2.0m) in telephoto. The flash squelches down nicely for macro exposures.







The 2.5-inch (6.4cm) color LCD has 110,000 pixels and is used for framing, review and accessing the menu system. There is no optical viewfinder.

Controls on the back: The Mode Dial has positions for: Auto, GUIDE, Movie, SCeNe, Image Stabilizer, Sport, Night Scene, Night Portrait, Landscape and Portrait. The MENU button calls up the menu and accepts selections. The 4-way controller is for navigating menus, changing settings and selecting playback images. Press "up" to set exposure compensation, press "left" for macro focus, press "down" for the self-timer and press "right" to change flash modes. The DISP button controls the amount of info displayed on the LCD.






On top (L to R) is the Print button, the Delete button, the red camera button is Record mode, the green arrow button is for Playback mode, the Power on/off button and the shutter release. Zoom lens controls serve as the Magnify and Index controls in playback mode.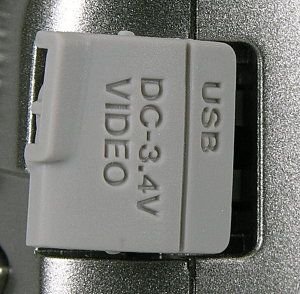 On the right side are the I/O ports: USB 2.0 (full speed, not high speed) data port. DC INput for optional AC adapter. Video Out is NTSC/PAL selectable.



The FE-140 stores its data with an internal memory of approx. 22MB and on xD-Picture Cards. xD cards are currently available up to 1GB in capacity.

Approx. Storage Capacities
The FE-140 is powered by two standard AA type batteries (alkaline, NiMH or lithium). We recommend NiMH AA rechargeables for both financial and ecological reasons. For infrequent use, the one-use lithium batteries are the best choice as they offer a very long shelf life. Check out our Rechargeable Battery Page for info and prices on high-capacity NiMH AA cells.



The outdoor case CWPC-03 was specially developed for the new easy cameras from Olympus FE-130/FE-140. Completely waterproof up to a water pressure equivalent to 3 meters depth, it is ideal for outdoor activities and shooting under water. Moreover, it offers complete protection against dust, dirt, sand and moisture. Thus digital photography is also possible during water sport activities, mountain biking or while skiing. Even a heavy shower while on a tropical safari is no reason for switching of your FE-130/FE-140. The outdoor case allows full operation of the camera and a clear view on the large monitor.
Visitors of Steves can visit the stores below for real-time pricing and availability. You can also find hot, soon to expire online offers on a variety of cameras and accessories at our very own Camera Deals page.