Olympus FE-120 Zoom Review
Olympus FE-120 Zoom Review

Features & Controls
The FE-120 features a 3x optical Olympus zoom lens with a 38mm-114mm (35mm equivalent) focal length and a maximum aperture of f2.8-f/4.9. This is an all-glass lens constructed of 6 lenses in 5 groups.
When powered down the lens retract inside of the body and is protected by an automatic lens barrier.
Equipped with a low-light AF-assist lamp, the contrast detection autofocus system has a range of 23.6" (0.6m) - infinity in normal mode. The Macro mode coverage is from 7.9" " (0.2m) - 23.6" (0.6m) and Super Macro focuses as close as 0.8" (20mm).



The built-in speedlight has modes for: Auto, Red-eye Reduction and Fill-in. The maximum working range in wide angle is 0.7 - 12.1 ft. (0.2 - 3.7m) and 0.7 - 6.9 ft. (0.2 - 2.1m) in telephoto. The flash squelches down nicely for macro exposures.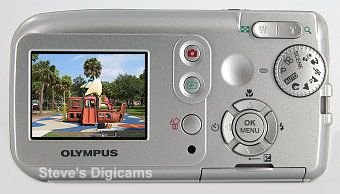 The 1.8-inch (46mm) color LCD is rather low-res at only 85,000 pixels and is used for framing, review and accessing the menu system. There is no optical viewfinder.






Controls on the back: Zoom lens controls serve as the Magnify and Index controls in playback mode. The Mode Dial has positions for: Program, Auto, Portrait, Landscape, Night Scene, Sport, Scene and Movie. The red camera button is Record mode, the green arrow button is for Playback mode. The 4-way controller is for navigating menus, changing settings and selecting playback images. Press "down" to set exposure compensation, press "up" for macro focus, press "left" for the self-timer and press "right" to change flash modes. The OK / MENU button calls up the menu and accepts selections. To the left is the Delete Image button.


On top is the shutter release and the Power on/off button.
On the right side are the I/O ports: USB 2.0 (full speed, not high speed) data port. DC INput for optional AC adapter. There is no video output capability.



The FE-120 stores its data with an internal memory of approx. 14MB and on xD-Picture Cards and comes with a 32MB size card. xD cards are currently available up to 1GB in capacity.

Approx. Storage Capacities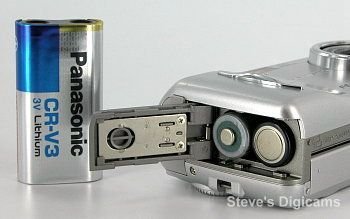 The FE-120 is powered by two standard AA type batteries (alkaline or NiMH) or a CR-V3 one-use lithium. We recommend NiMH AA rechargeables for both financial and ecological reasons. For infrequent use, the one-use lithium batteries are the best choice as they offer a very long shelf life. Check out our Rechargeable Battery Page for info and prices on high-capacity NiMH AA cells.
Visitors of Steves can visit the stores below for real-time pricing and availability. You can also find hot, soon to expire online offers on a variety of cameras and accessories at our very own Camera Deals page.