Olympus D-595 Zoom Review
Olympus D-595 Zoom Review
Features and Controls
Olympus 3x zoom lens (6.3 - 18.9mm), F2.8/4.9 (equivalent to 38-114mm on a 35mm camera). Stepless 4x digital zoom when combined with the optical zoom gives a 12x seamless zoom.
Its TTL auto focus (contrast detection) system has a focusing range of: 20" - infinity (0.5m- inf.) in Normal mode, 8" - infinity (0.2m - inf.) in Macro mode, and as close as 0.8" (20mm) in Super Macro mode. Depressing the Macro button toggles between macro mode, standard AF (macro off) and Super Macro mode.
The lens retracts inside the camera when powered down and the sliding cover protects it, no lens cap required.



The eyelevel optical viewfinder provides ~85% frame coverage but lacks any dioptric adjustment. The two LEDs indicates flash and focus status.



The built-in intelligent speedlight has modes for: Auto (automatic flash activation in low light and backlight), red-eye reduction, fill-in (forced activation), and off (no flash). The working range is: Wide: 8" - 12.5' (0.2m - 3.8m), Tele: 8" - 7.2' (0.2m - 2.2m)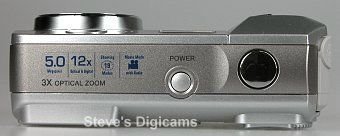 There's not much on the top, just the shutter release and power button.
Controls on the back: Top right are the Zoom controls; in playback mode they act as the index and magnify options. The Mode Dial has positions for Auto, Program AE, Manual, Movie, Scene, Landscape+Portrait, Sports, Night Landscape, Landscape and Portrait. The Red Camera button enables record mode and the Blue Arrow button enables playback mode. The 4-way controller lets you navigate menus, and select playback images. The OK/Menu button calls up and dismisses the menu system and accepts menu selections. The Flash button selects the flash mode, in playback it is the delete button. The Macro button selects the focus mode and in playback is used for setting the DPOF printing information.







The I/O ports: Combination Audio/Video Out port for connecting to a TV set (NTSC or PAL format.) and the USB (1.1 speed) data port for downloading image to your PC or direct printing to any PictBridge compliant printer. The DC IN jack for an optional AC adapter or an external battery pack.






The D-595Z stores its images on xD-Picture Cards. Located on the bottom of the camera behind a door is the card slot which accepts any size card. Olympus includes a 16MB card (To use the camera's panorama function an Olympus brand xD card must be used.)
Quality Mode
Resolution
128MB xD-Picture Card
512MB xD-Picture Card
Still image
(w/o sound)
Unit: shots
SHQ
2560 x 1920
35 shots
142 shots
HQ
2560 x 1920
105 shots
420 shots
SQ1
1600 x 1200
257 shots
1030 shots
SQ2
640 x 480
1330 shots
5324 shots
Still image
(w/ sound)
Unit: shots
SHQ
2560 x 1920
35 shots
141 shots
HQ
2560 x 1920
102 shots
409 shots
SQ1
1600 x 1200
241 shots
968 shots
SQ2
640 x 480
997 shots
3993 shots
Movie
(w/o sound)
Unit: min.
HQ
320 x 240
193 sec.
774 sec.
SQ
320 x 240
387 sec.
1548 sec.
Movie
(w/sound)
Unit: min.
HQ
320 x 240
190 sec.
762 sec.
SQ
320 x 240
375 sec.
1503 sec.
All capacity figures are approximate.
The D-595Z is powered by either two standard AA type (alkaline, NiMH, lithium) or one CR-V3 lithium battery. Rechargeable NiMH AA type are the most economical if using AA type as they can be reused 500-100 times. The one-use CR-V3 lithium battery offers a long shelf life and a long runtime but is rather expensive.
Visitors of Steves can visit the stores below for real-time pricing and availability. You can also find hot, soon to expire online offers on a variety of cameras and accessories at our very own Camera Deals page.