Olympus C-765 UltraZoom Review
Olympus C-765 UltraZoom Review
Features and Controls
The C-765UZ employs an Olympus 10x zoom lens (38-380mm equivalent in 35mm photography), it is composed of 11 elements in 7 groups using ED (extra dispersion) glass lens to evenly distribute light across the camera's CCD sensor. It features a seamless Digital Zoom of 40x (10x optical and 4x digital combined). The aperture range is f2.8 - f8.0 (Wide angle) and f3.7 - f8.0 (Telephoto) and is adjustable in 1/3 EV steps.
The C-765UZ features a robust TTL autofocus system that uses contrast detection to determine to focus range. The default mode is a Multi area AF with a user-selectable spot AF option. The focusing range of the lens is; Normal mode: 3.9 ft. (1.2m) - infinity; Macro mode: 2.8 in. - 2.0 ft. (7.0cm - 60cm); Super macro mode: 0.5 in. (1.2cm)







A very useful non-Olympus accessory is the OLYCAP, a spring- loaded slip-on lens cap that sells for just $9.50. You'll never have to deal with a "dangling" or lost lens cap again!










The eyelevel viewfinder is a 0.44-inch color EVF (Electronic Viewfinder) with full camera and exposure information displayed. It may be used for preview, recording, and menu operations the same as the large color LCD on the back. It features a dioptric adjustment.










The manual popup flash has Auto (low and backlight), Red-Eye reduction, Fill- In (forced on), and Slow shutter sync modes. The flash working range at ISO 100 is 11.8 ft. - 14.8 ft./3.5m - 4.5m (wide) and 3.9 ft. - 11.5 ft/1.2m - 3.5m (tele). The flash takes approx. 7 seconds to charge with a fully charged Li-10B battery pack (included).










On the back is a 1.8-inch color TFT LCD monitor with 240,000 pixels of resolution. The three buttons across the top are: The AEL (Auto Exposure Lock) or Custom function button that can be set for various camera settings in record mode, in Play mode it allows you rotate images for proper orientation. In the center is the self-timer button, it also functions as the delete button in playback mode. On the right is the Flash mode button that doubles as the Protect / Unprotect button in playback. Next is the popup flash release button.

Control buttons: POWER turns the camera on and off. The QUICK VIEW button jumps to playback mode and views the last image captured. The 4-way selector is used to navigate the menus, change camera settings, and navigate through images saved on the xD card in playback mode. The Display button located at the bottom of the screen switches between the LCD or EVF. The OK button calls up the onscreen menus, accepts menu selections, and when held down it enables the manual focus option.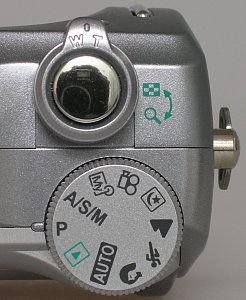 On top is the Mode Dial with positions for AUTO, Portrait, Sports, Landscape, Night Scene, Movie, MyMode, A/S/M, Program AE, and Play. Above the Mode Dial is the shutter release button with the zoom control mounted around it (the zoom control also functions as the thumbnail index and zoom control in playback mode).






The I/O ports are on the side:

DC IN for optional AC power supply



USB 1.1 port for image downloads to the host computer



Audio-Video Out for connection to TV. Video format is user selectable for NTSC or PAL.



The C765UZ stores images on a xD-Picture Card. The camera ships with a 16MB xD-Picture card and is compatible with any capacity xD card. Our test we done using a 256MB size xD card. Below is a chart showing the number of photos that can be stored on either the included 16MB card or a 512MB card.



| | | | |
| --- | --- | --- | --- |
| Quality | Pixel Resolution | 16MB xD-Picture Card (included) | 512MB xD-Picture Card |
| TIFF | 2288 x 1712 | 1 frame | 44 frames |
| SHQ | 2288 x 1712 | 5 frames | 185 frames |
| HQ | 2288 x 1712 | 16 frames | 523 frames |
| SQ1 | 2048 x 1536 | 20 frames | 652 frames |
| SQ2 | 1024 X 768 | 76 frames | 2457 frames |
| SHQ | 640 X 480 15 fps movie | 17 seconds | Over 9 minutes |
| HQ | 320 x 240 15 fps movie | 45 seconds | Over 25 minutes |
| SQ1 | 160 x 120 15 fps movie | Over 3 minutes | Over 1 hour and 50 min. |




The C-765UZ is powered by a proprietary Olympus LI-10B 3.7v 1090mAh lithium rechargeable battery pack. The small LI-10C 110-240V AC charger is included and charges the battery in 120 minutes or less.






Want to take your C-765UZ down under? No problem, just get the Olympus PT-022 underwater housing. It's rated waterproof up to 40 meters. It's made of clear polycarbonate resin with dimensions of 151 (W) x 126 (H) x 126 (D) mm and weighs just 620 grams. It comes with hand strap, silicon grease, gel pack, O-ring removal tool, balance weight, lens cap and TTL connector cap. It retails for about $300.00 (it also fits Olympus C-760 and C-770 UltraZoom).
Visitors of Steves can visit the stores below for real-time pricing and availability. You can also find hot, soon to expire online offers on a variety of cameras and accessories at our very own Camera Deals page.