Olympus C-3040 Zoom Review
Olympus C-3040 Zoom Review
Olympus C-3040 Zoom
Playback Modes and Menus
When you switch the Mode dial from record to Play you are shown a fullscreen review of the last image you captured like the one above.



From the menu you can select the INFO option and turn it on. You will now see the following information displayed on top of each picture. This picture was shot in SHQ mode, the filesize is 2048 x 1536 pixels, the aperture value was F2.3, the shutter speed was 1/60 second, the exposure compensation was 0.0, the white balance was automatic and the ISO sensitivity was set at 100. Next line is the date and time and on the bottom is the folder and filename.



To quickly search through your stored images you move the zoom control lever to the wideangle position and it brings up a thumbnail index page. Using the 4-way jog switch you can select an image and then display it fullscreen. This display can be set for 4, 9 or 16 thumbnail images per page.



While viewing an image fullscreen you move the zoom control lever to the telephoto position and magnify the image up to 3x. You can now move around the image using the 4-way jog switch to examine the picture for color, detail or focus.



This is a fullscreen playback of a HQ quality 320x240 QuickTime movie clip. The icons tell you that it is a movie file and that it was recorded with sound. On the bottom is the running time - we're at 3 seconds of a 25 second clip.



Just like playback of still images you can enable the playback info to be overlayed on the screen to show the size and quality, white balance, time and date and the run time info.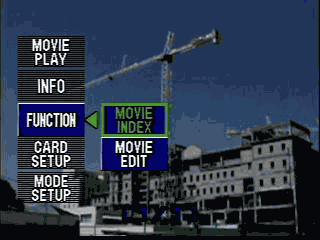 You can edit the movie clips in the camera. You mark the desired start and end frames and then either overwrite the original file or create a new one.



You can also create an index file from a movie clip. You pick the desired images and a 1024x768 still image is created with nine frames from the movie.



Play mode MENU options:
- Slideshow playback start

INFO - Enable or disable the camera and exposure information shown in playback mode.

- Record sound clip for picture being displayed.

FUNCTION - When playing back a movie clip this option has two choices, Index and Edit. Index creates a still image with the first nine frames of the movie. Edit allows you to clip the length of a movie by specifying the start and end frames.

CARD SETUP - Delete images or format SM card.

MODE SETUP - submenu with these options:

ALL RESET - Reset all settings to default. See the last frame on the previous page of this review for the Custom Reset options.

- Beep sound: Off, Low, High

SLEEP - Auto-Off timer: Off, 30s, 1m, 2m, 5m

- Thumbnail display: 4, 9 or 16 images

- Adjust LCD backlight intensity

- Set the time and date
Steve's Conclusion
The C-3040 Zoom is a C-3030 Zoom with the newly improved F1.8 Super Bright lens which gives it even better performance in low light conditions as well as extending the working flash range. So our conclusions will be the same as those for the previous C-3030 Zoom camera.
The C-3030 Zoom represented a significant upgrade to Olympus' popular C-2020 Zoom. The first difference you'll notice is the new, all-black body and larger finger grip but other than that it looks a lot like the C-2020 Zoom. Inside is an updated 3.34 megapixel imager and robust processing firmware. The C-2020 Zoom was one of the cameras that we recommended without hesitation in 1999, the C-3030 Zoom and C-3040 Zoom will be in that elite group this year. No matter what you want in the way of features this camera has got you covered -- from point and shoot simplicity to full metered manual. It's small enough to take with you wherever you go and light enough to hang around your neck all day.
A common statement made by folks seeing it for the first time was, "It doesn't look like a digital camera." Hearing that I would turn it around and show them the picture I just took on the color LCD. Even my semi-pro photography buddies were impressed with the C-3040's features and image quality. Cameras like this when used with the new Epson 870 and 1270 photo printers will definitely put digital on the same level as film for consumers who want to do it all at home.
The C-3040's large finger grip gives it a more secure and stable feel in your hand. The major controls like the mode/power dial, zoom lever and shutter button are ergonomically placed and easy to operate. Particularly useful is the new Custom Mode option where you can "dial in" your favorite combination of image size, quality, operational mode, lens startup position, EV compensation, flash mode, and most every other camera option available. This can be your startup default when you turn the camera on which is very handy from power on to power off or during battery or memory card changes.
Recording options are plentiful with a myriad of different combinations of still image capture sizes (2048x1536, 1600x1200, 1280x960, 1024x768, 640x480) and quality/compression settings (uncompressed TIFF, SHQ, HQ, SQ1 high, SQ1 normal, SQ2 high, SQ2 normal). There's also the 320x240 and 160x120 QuickTime movie modes at 15fps with sound. Movie recording time is limited only by the capacity of the SmartMedia card you're using. The movies are sharp and clear but unfortunately you can't use the optical zoom when the audio is enabled. Disabling the audio also gives you more memory to record longer movie clips.
Drive modes include: Single, Burst, AF Burst, AE Bracketing (3-5 frames with +/- 0.3, 0.6 or 1.0 stop increments), Selftimer and Remote. Burst mode is good for around 3fps up to five JPEG-compressed pictures, it is not useable in TIFF mode. When using an Olympus brand SmartMedia card there is also a special Panorama mode available. As with previous models, Olympus has again included that handy infrared remote control. You can operate the zoom and snap a picture in record mode or control the camera during playback on the TV from the other side of the room.
Exposure options include Programmed Automatic, a point and shoot mode where the camera chooses the best combination of shutter speed and aperture. If you want more control, you can pick from Aperture-priority (F1.8-F10), Shutter-priority (1-1/800 sec) or full Manual. These modes must be chosen from the setup menu and take effect when you switch the mode dial to the "A/S/M" position. When in Manual mode there is a digital light meter displayed on the LCD screen to let you know if your combination of shutter speed and aperture will yield a properly exposed picture.
The C-3040's sensitivity by default will change automatically to suit the conditions or you can manually lock it in at ISO 100, 200 or 400. Using ISO 200 or 400 with shutter speeds longer than 1/8 of a second will result in varying amounts of CCD noise that will appear as speckles and Christmas lights (red, green and blue hot pixels.)
Metering can be center-weighted averaging or spot. White balance options are: Automatic, daylight, cloudy, incandescent, flourescent or manual preset. The builtin speedlight's output can be controlled (+/- 2.0 in 0.3 increments) and offers Auto-Flash, Red-Eye Reduction, Fill-in or Off modes. Its working range is excellent from macro out to about ten feet and with little to no redeye problems. There is a 5-pin connector for full TTL control of the optional Olympus FL-40 speedlight. Using this external speedlight gives you much greater working range as well as off-camera bounce for more natural looking flash pictures.
The new all glass, F1.8-2.6 3X optical zoom lens covers a focal range of 35-105mm (35mm equivalent), it is currently the "fastest" lens on any 3-megapixel camera. (Fast in photographic terms indicates how large the maximum aperture is and this lens when in wideangle is F1.8 and that is very fast.) It exhibits the usual amount of barrel distortion in full wideangle and a moderate amount of pincushioning at full telephoto. The motorized zoom mechanism is smooth and positive although it often seemed a little too fast. The focus range is from 30 inches to infinity in normal mode and 8 inches to 30 inches in macro mode.
Autofocus is TTL using a contrast detection system or you can switch to manual focus with 130 steps from 8 inches to infinity. When manual focusing, a slider scale is overlayed on the color LCD and the display is zoomed as you adjust the distance. The autofocus is accurate and usually performs its job in a second or less even in macro mode and works well down into dim lighting conditions.
Filters or add-on lenses can be attached to the C-3040 using the Olympus CLA-1 adapter. Tiffen also makes an adapter that can be used on the C-30xx and C-20xx series cameras. I did use the EagleEye OpticZoom on the C-3030 but it vignettes at anything other than wide open aperture (F2.8), you can see some sample images by following the link above.
The 1.8-inch color LCD is one of the new "Wideview" displays and is much easier to see from the side than earlier LCDs. It has excellent resolution and the backlight can be adjusted to suit a wide range of viewing conditions. The refresh rate is realtime so there is no herky-jerky display even when fast panning. It does tend to streak a bit when used outdoors and the sun gets in the frame but this is something we see with most digicams. Screen visibility is good in all but direct sunlight where you should be using the optical viewfinder unless you need to access the menus. I found it quite easy to shield the screen by cupping my hand around it when I had to change settings in the great outdoors.
Speaking of optical vewfinders ... the C-3040 uses the same eyelevel, coupled optical viewfinder as the C-2020 (and C-3030). There is a diopter adjustment knob on the side and it is a large and bright viewfinder so even those wearing glasses will have no problems using it. It shows slightly less than 90% of the final image. The LCD if used as a viewfinder shows about 98% of the capture area. I did notice that the optical viewfinder is offset from the actual captured image.
One of the first exterior improvements I noticed was the new battery door (thank you, thank you, thank you!) With the C-2000 and the C-2020, the user had to be ambidextrous to the max to say the least. The new battery door closes easily and logically and then stays closed with a sliding security latch. Be forewarned -- there is no electronic interlock so if you forget to flip the security latch the camera still works and all it takes is a good bump and that door pops open.
Unfortunately Olympus decided not to package a set of NiMH batteries and charger this time. They did include two of their new lithium 3v battery packs that take the place of the four AA type batteries. They work fine but they are not rechargeable so you'll end up buying a set or two of NiMH batteries and a charger to complete this otherwise excellent camera system.
Bottom Line is that this is an excellent camera. As I said at the beginning, it will be one of the cameras that I'll recommend without hesitation to those seeking the "best" of the current consumer digicams.
Visitors of Steves can visit the stores below for real-time pricing and availability. You can also find hot, soon to expire online offers on a variety of cameras and accessories at our very own Camera Deals page.