Olympus C-3020 Zoom Review
Olympus C-3020 Zoom Review
Playback Modes & Menu Options
Typical playback screen with the normal overlay data displayed. Battery condition, image quality (SHQ), date, time and frame number.



This is the exposure information that is displayed when the "info" option is enabled. Besides the exposure data, the current folder and picture number is also displayed.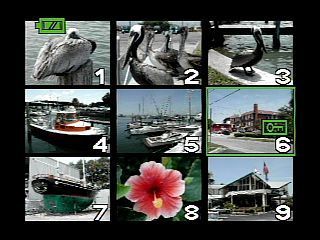 Typical of most digicams, the C-3020 can display small thumbnails of the images stored on the SmartMedia card. You can select in the setup options to display 16, 9 or 4 thumbnails. The Less on the screen the larger thumbnails.
You can also see that picture number 6 has been protected against deletion, note the little green key icon.



To check critical focus, exposure or subject matter you can use the zoomed playback mode. By toggling the zoom lever you can enlarge the picture from 1x to 3x and then scroll around inside using the 4-way navigation switch. By toggling the zoom lever in the opposite direction puts the playback screen into the index mode.



Pressing the menu button during playback mode brings up the Play Back menu screen. The "UP" option starts the slide show playback mode. The "Info" option enables or disables the display of the extended exposure data. The "Rotate" option allows the Image being played back to be rotated on the screen either "-90" degrees, "+90" degrees or "0" degrees. Helpful when an image has been shot with the camera turned vertically and you are going to use the camera in the "Slide Show" mode and view it in camera - no video output to view it on a TV. It is much simpler to turn the camera vertically to view those images.
Choosing the Mode setup option brings up the following menu screen.



Card setup is for deleting images, ALL images or formatting the memory card.



Here you can select the "All Reset" to determine whether or not the current camera settings are stored for batteries or Smart Media card changes . The Speaker Icon sets the warning beep sound's intensity. Monitor icon allows the monitor's backlight brightness adjustment. The Clock Icon allows adjustment of the date and time. The Checkered flag icon allows the setting of number of thumbnail images to display.
Visitors of Steves can visit the stores below for real-time pricing and availability. You can also find hot, soon to expire online offers on a variety of cameras and accessories at our very own Camera Deals page.