Nikon Coolpix L12 Review
Features & Controls
The Coolpix L12 is equipped with a 3x Zoom-Nikkor zoom lens with a 35mm equivalent to 35 - 105mm), the maximum aperture is f/2.8 - 4.7. The lens is constructed of all glass and has 5 elements in 5 groups. When powered down the lens is retracted into the body and protected by a built-in lens cap.
This model also features Nikon's Lens Shift Vibration Reduction (VR) system, which helps reduce blur in your photos caused by slight hand movement also know as camera shake.
Auto focus is handled by a contrast detect TTL system, the focus range is:
1 ft. 8 in. (50cm) to infinity in normal mode, or 5.9 in. (15cm) to infinity in macro.
The built-in speedlight has a flash range is approx. (W) 0.5-8.0m (1 ft. 8 in. - 26 ft. 3 in.), (T) approx. 0.5-4.5m (1 ft. 8 in. - 14 ft. 9 in.) and can be set for Auto Flash, Auto+Red-Eye Reduction, Fill Flash, Slow Sync or Disabled. The L12 also features In-Camera Red-Eye Fix which will automatically detect and remove most occurrences of flash red-eye in people pictures.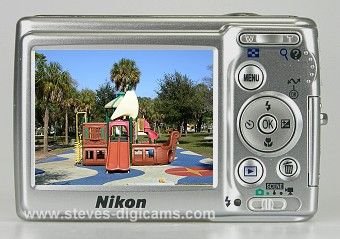 The large 2.5-inch color LCD serves as the viewfinder and is also used to review/share your images and movies as well as access the menu screens. The display automatically dims when no buttons are pushed to conserve battery power. The screen resolution is lower than average for this size display, it has only 115,000 pixels.







Controls on back: The W-T is the zoom lens control and functions as the Index-Magnify control in playback. Pressing the "T" button when a menu is displayed will show a Help screen. The Menu button calls up and dismisses the menu system. The 4-way selector is for navigating menus and selecting pictures, press it straight in to accept selections. In record mode pressing it "Up" selects the flash mode, "Left" activates the selftimer, "Right" adjusts exposure compensation, and "Down" enables the macro focus mode. The "blue arrow" button switches between Play and Record mode. The Trashcan button deletes images in playback mode. On the bottom is the Record/Scene/Movie mode switch.






Controls on top: The speaker, Anti-shake and One-touch portrait buttons, power on/off button and the shutter release.



The single interface connector is a combination port that is used to connect either the USB 1.1 cable for downloading images to Mac and Windows computers or to connect the Audio-Video cable for viewing on a TV set. The video signal is selectable for either NTSC or PAL standards. The USB port is PictBridge compatible for direct printing without a computer.



The Coolpix L12 is equipped with 21MB of internal memory and a SD/SDHC memory card slot, no card is supplied with the camera. Images and movies can be copied from internal memory to SD card or vice-versa. Any SD card up to 2GB or any capacity SDHC card can be used.
Power is supplied by two standard AA-type batteries, alkaline, NiMH (nickel metal hydride), or lithium cells. Nikon claims with AA Alkaline batteries you can capture 150 shots, 370 shots with rechargeable NiMH cells or an amazing 600 shots with lithium batteries (using CIPA standards.)
Check out our NiMH rechargeable battery page for more info on NiMH battery types.
Visitors of Steves can visit the stores below for real-time pricing and availability. You can also find hot, soon to expire online offers on a variety of cameras and accessories at our very own Camera Deals page.