Nikon Coolpix 995 Review
Playback Modes & Screens
When you flip the Mode Dial to the Play position it will display the last image stored in full screen mode as shown above. You can press the Left or Right portion of the 4-way selector switch to scroll backwards or forwards through the stored images.
Rotating the Command Dial lets you select any one of three screens of exposure settings or a histogram as shown in the following frames.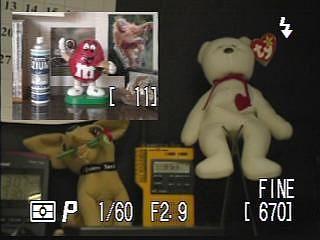 The Quick Review function first seen on the Coolpix 880 is now available on the Coolpix 990. Just press the
button while in Record mode and the last image taken is displayed in a PIP (Picture in a Picture) window in the upper left of the LCD. Press the Quick Review button again and the camera is effectively in full screen playback mode but ready to go back to recording at a tap of the shutter release.



While displaying a picture full screen you can press the Telephoto zoom control button and magnify the image. There are 25 intermediate magnifying steps all the way up to a maximum of 6x. At any magnification step you can scroll around inside of the image using the 4-way selector.



To enter the thumbnail (index) playback mode just press the flash mode button. The number of thumbnail images can be toggled between 4 or 9 per page by pressing the button again.



The QuickTime MOVies that you record can be played back full screen on the color LCD or a television set if the video out cable is hooked up. Unfortunately there is no microphone on the Coolpix 995 so they're silent movies :-(



The Play mode menu lets you delete images, change the folder, start a slideshow, protect/unprotect images, hide images, set DPOF printing information or use the Auto Transfer feature to copy images to the host computer.
You can also enter the SETUP menu which was described on the previous page.
Visitors of Steves can visit the stores below for real-time pricing and availability. You can also find hot, soon to expire online offers on a variety of cameras and accessories at our very own Camera Deals page.