Nikon Coolpix 2500 Review
Nikon Coolpix 2500 Review
Modes & Screens
Typical Auto record mode LCD screen display.




The QuickReview button lets you see the last image captured in a quarter-size screen without leaving Record mode. Press the button again to make the image full screen. Tap the shutter release to quickly return to Record mode.








Record Mode Menu
The JPEG images can be saved in Fine, Normal or Basic quality.
Image sizes: Full (1600x1200), XGA (1024x768), VGA (640x480).
Exposure compensation choices are: Normal("0"), "+" or "-" .3 or .7 EV.
Brightness: LCD backlight - brighter or dimmer.
CF Card Format: Format the CF card in the camera.
Date: Adjust date and time.
Auto Off: Auto turn-off time for LCD - 30s, 1m, 5m, or 30m.
Language: De, ENglish, Fr, Japanese, Es.
USB: PTP, Mass Storage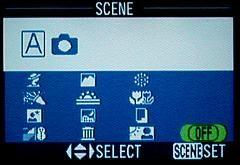 The Scene Menu allows access to the creative modes: Off, Auto (Default), Backlight, Museum, Beach and Snow, Night Portrait, Night Landscape, Copy, Close up, Sunset, Party/Indoor, Portrait, Landscape, and Fireworks Show.








Flash Modes: Auto, Auto Red-eye reduction, flash cancel, and forced fill flash.
Typical Play mode LCD screen display. This is the maximum
amount of overlay information that can be displayed.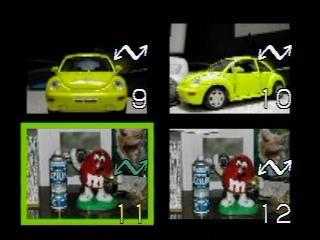 Thumbnail index pages can display 4 images per page or ...


You can display 9 thumbnails if your eyesight is really good.




The image can be magnified in many steps up to 6x, once enlarged you can scroll around it using the 4-way controller.












Play mode menu has options for Deleting images, Setting DPOF printing information, Protecting images, enabling Auto Transfers, Compact Flash Card Formatting, and LCD brightness control.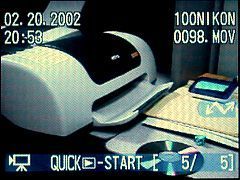 Typical screen display while in the Movie Play mode. The Coolpix 2500 can record QuickTime MOVie clips up to 15 seconds in length at 320 x 240 resolution. There is no microphone so the movies are silent. The optical zoom can be used during movie recording.
Visitors of Steves can visit the stores below for real-time pricing and availability. You can also find hot, soon to expire online offers on a variety of cameras and accessories at our very own Camera Deals page.