Minolta DiMAGE 7Hi Review
Minolta DiMAGE 7Hi Review
Playback Modes & Menu Options
A typical Play mode screen. When you turn the Command Dial to the Play position the last image captured is displayed full screen with overlay data for file folder and number, image resolution and quality, time and date. This same display is also shown when using the QuickView function from Record mode.

Pressing the "i+" button in the center of the display switch toggles between the full screen display, full screen w/out overlay and the index mode shown above. From the menu you can select to display 4 or 9 thumbnail images per screen.



When an image is displayed full screen in Play or QuickView mode you can press the Up switch to display the histogram along with the shutter speed, aperture, white balance setting, ISO speed and exposure compensation.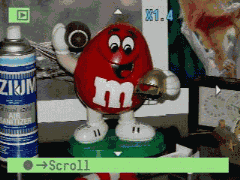 The full screen playback image can be enlarged up to 4x in 15 incremental steps by pressing the magnification button and then using the up or down portion of the 4-way controller. To scroll around, press the center button and then use the 4-way selector, press the center button again to return to zoom mode.



Movie clips can be viewed on the EVF, LCD or a television if you have hooked up the audio-video cable. The audio portion can be heard on the internal speaker when played back in-camera.

Movies play back in full-screen mode on the camera's LCD or TV set.



The Play mode menu:
Basic
Delete - Delete current frame, marked frames or all frames

Format - Format the CF card

Lock - Lock (protect) current frame, marked frames, all frames

Index format - Display 4 or 9 thumbnail images in index mode
Advanced 1
Slideshow - Start automatic playback

Play - Select frames for slideshow

Duration - Select the duration each image is displayed

Repeat - Repeat when last image is displayed
Advanced 2
Print - Set DPOF printing information

Index Print - Print index sheet

Cancel print - Remove DPOF information

Copy - Copy images between CF cards using camera memory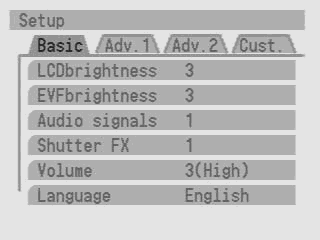 SETUP menu options:
Basic

LCDbrightness - Adjust the LCD brightness

EVFbrightness - Adjust the EVF brightness

Audio signals - Choose a sound for camera beeps

Shutter FX - Choose a sound effect for the shutter

Volume - Adjust the volume of sound effects

Language - Chose the menu language

Advanced 1

File#memory - Sequentially number images

Folder name - Choose the method for creating folder names

Select folder - Select the active image folder

New folder - Create a new image folder

Display mode - Choose what is displayed on the viewfinder; Std display, focus frame, histogram, grid, scale or image only.

Direct MF - Enable or disable direct manual focus

Advanced 2

Reset default - Return all settings to factory default

EVF autoSwtch - Auto EVF / LCD or EVF auto-on

Date/Time set - Set the time and date

Date format - YYYYMMDD, MMDDYYYY, DDMMYYYY

Video output - NTSC or PAL format

Power save - 1, 3, 5 or 10 minutes to auto power off

Custom

Memory recall - Assign it to Function Dial or DSP button

Ctrl dial (M) - Control Dial sets Shutter speed or aperture when in Manual mode

Manual shift - Program AE shift, Enable or disable

Bracketing - DEC control or Exposure

Color profile - Embed ICC profile in output file or disable

Delete conf - Confirm delete requests, Yes or No
Visitors of Steves can visit the stores below for real-time pricing and availability. You can also find hot, soon to expire online offers on a variety of cameras and accessories at our very own Camera Deals page.