Kyocera Finecam S4 Review
Kyocera Finecam S4 Review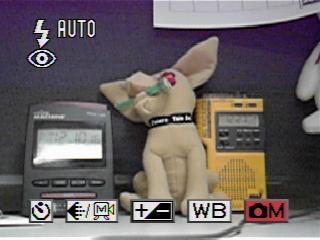 Record Mode Screens & Menus
A typical record mode screen, the icons across the bottom are displayed after pressing the MENU button.
Activate the selftimer by using the first icon on the left. You change the image quality/mode by selecting the second icon on the left: (S)uperfine, (F)ine, (N)ormal, (M)ovie. The "+/-" icon lets you adjust the exposure compensation. The "WB" icon lets you select from Preset, Auto, Sunny, Incandescent, Cloudy or Fluorescent. The "M" icon gives you access to the manual exposure options shown in the next frame.



Manual Recording options:
COLOR MODE - Color, B&W, Sepia

WB PRESET - Set the custom white balance

AE MODE - Program AE or Aperture priority (F2.8 of F9.6 only)

FOCUSING - Auto (AF) or Manual (MF)

LONG EXP - Shutter time 2, 4 or 8 secs or OFF

SENSITIVITY - Standard (ISO 64), X2 or X4

METERING - Evaluative, Center-weighted or Spot

REC REVIEW - Review after capture on/off

DIGITAL ZOOM - On or off
The S4 lets you user manually focus the lens with a slider control on the LCD.



Playback Screens & Menus
Unlike most digicams the main Playback mode screen is devoid of overlay data.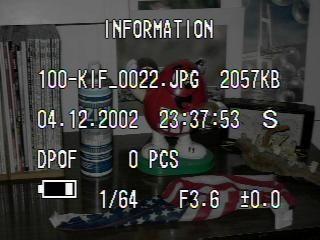 You can bring up this screen of exposure information that shows the filename, file size, date, time, image quality ("S"uperfine), DPOF print information (0 PCS means it is not selected for printing), shutter speed 1/64 sec., aperture F3.6 and exposure compensation.



To examine images during playback on the small 1.5" screen there is a one-step 2X zoom option that magnifies the image and allows you to scroll around using the 4-way selector.



The Index mode displays 6 small thumbnails and lets you quickly search through stored images to find one to playback in full screen mode.



Pressing the MENU button while in Play mode brings up the following options:
MULTI (or SINGLE) - Display index page or return to full screen mode

PROTECT - Protect images against accidental erasure

ERASE - Delete current image

ALL ERASE - Delete all images.
The second page of options includes:
ROTATE - Rotate portrait mode images for proper display on a television set

AUTO PLAY - Begins the sideshow function

PRINT - Set DPOF printing information.

RESIZE - Create smaller images
SETUP MENU:
DATE - Set the camera's internal clock/calendar

FORMAT - Formats the SD or MMC memory card

BEEP - Enable or disable camera sounds

POWER SAVE - Enable or disable the power saver timeout

MODE LOCK - When enabled the record mode settings are saved from power Off to On

LANGUAGE - Menu language (English, Japanese, German, French, Spanish)

VIDEO OUT - Video output format, NTSC or PAL

FILE NO. - Reset file numbers and create new folder or sequentially number

MODE RESET - Restore default settings of the record mode

COLOR SELECT - Select the color desired for the menu bar
Visitors of Steves can visit the stores below for real-time pricing and availability. You can also find hot, soon to expire online offers on a variety of cameras and accessories at our very own Camera Deals page.