Kyocera Finecam S3L Review
Kyocera Finecam S3L Review
Playback Screens & Menus
Switching the mode switch to Play brings up the last image (or movie) captured in fullscreen mode. Press the MENU button to popup the overlay on the bottom. See next frame for menu options.

Pressing the MENU button while in Play mode brings up the following options:
MULTI - Display an index of six smaller images (see below)

RECORDING - Record audio note for current image

PROTECT - Protect images against accidental erasure

ERASE - Delete current image

ERASE ALL - Delete all images

RESIZE - Create smaller size image

ROTATE - Rotate portrait mode images for proper display on a television set

AUTO PLAY - Begins the sideshow function

PRINT - Set DPOF printing information.
Pressing the 4-way Up or Down overlays the extended exposure info on the image.



To examine images during playback on the small 1.5" screen there is a 2X zoom option that magnifies the image and allows you to scroll around using the 4-way selector.



This is the Index mode where you can quickly search through stored images to find one to playback full screen.



If you need a small image for email attachment the RESIZE function lets you downsize the entire image or crop out just the part of it that you want. Chose either 320 x 240 or 160 x 120 size final image.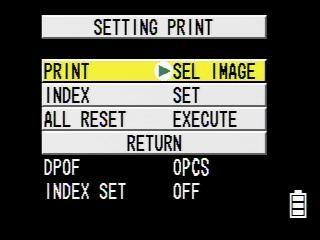 The PRINT functions let you embed DPOF (Digital Print Order Format) on your memory card to simplify printing of images later.



Here's the menu that is displayed when the mode dial is in the SETUP position. These options are pretty much self-explanatory.
Visitors of Steves can visit the stores below for real-time pricing and availability. You can also find hot, soon to expire online offers on a variety of cameras and accessories at our very own Camera Deals page.