Konica Minolta Maxxum 7D SLR Review
Konica Minolta Maxxum 7D SLR Review
Bundled Software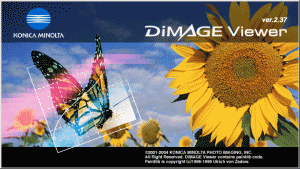 The MAXXUM 7D is bundled with DiMAGE Viewer software. It lets you view images, thumbnails, and EXIF data, and greatly simplifies image file moving, copying, renaming, and printing. It also enables you to add and edit comments, and to make basic tone curve, level, and color adjustments. It processes both JPEG and RAW images from the camera.

When you open a RAW image, it is displayed along with the camera settings in effect when it was captured. You can modify the camera's White Balance, Hue, Saturation, Contrast, Exposure Compensation and Sharpness settings.

The image is displayed with a histogram and image information, including Exif data.

Tools are provided to adjust
Tone Curves
Brightness, Contrast and Color balance and
Hue, saturation and lightness
The Variation palate allows an image to be corrected by comparing it to other slightly corrected images around it. Saturation, Color Balance and Brightness & Contrast can be varied in user-specified steps of between 1 and 20.

The Sharpness tool allows adjustment of Frequency and Contrast; the results are visible in a magnified view. All correction tools allow you to view side-by-side before and after images.

Corrected images can be saved in BMP, TIFF or JPEG formats. RAW image files can not be saved, but the RAW processing settings can be saved as a RAW job, and later applied to other images.

---
The optional DiMAGE Master software provides an improved RAW data processing algorithm, ensures more accurate color reproduction, and provides a full range of retouching tools for image editing and fine-tuning, including the ability to remove the effects of dust on the CCD from RAW images.



DM features the same kind of thumbnail browsing as viewer plus it offers side-by-side comparison viewing when adjusting images.



Advanced RAW editing tools include Tone Curves and Exposure Compensation and Sharpening with very controllable Unsharp Mask options like Photoshop.



Complete control over Contrast, Color Balance, Hue, Saturation and Lightness.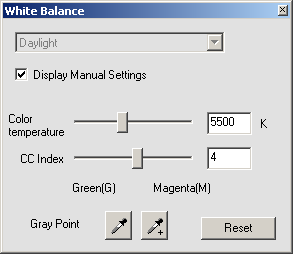 White Balance with selectable camera Presets, Kelvin temperature and Gray Point and Color Space control.



Advanced Color Filter and Effects as well as Dust Removal with a reference photo.



Output options for JPEG with selectable compression, 8 or 16-bit TIFF, BMP, PICT or PNG format.


Visitors of Steves can visit the stores below for real-time pricing and availability. You can also find hot, soon to expire online offers on a variety of cameras and accessories at our very own Camera Deals page.