Fujifilm FinePix S6000fd Review
Fujifilm FinePix S6000fd Review
Features & Controls
The S6000fd employs a powerful Fujinon f2.8-f4.9, 6.2-66.7mm 10.7x optical zoom lens, it's equivalent to 28-300mm on a 35mm camera. The all-glass lens extends about 1.25-inches through its zoom range, and is threaded for 58mm filters and conversion lenses like Fujifilm's WL-FXS6 wide angle conversion lens. The lens is equipped with a mechanical zoom control, actuated by turning the wide rubber ring at the front of the lens.
The TTL contrast-type auto focus system features Single AF, Continuous AF and Manual focus modes with your choice of AF frame selection: AF (Center), AF(Multi), or manual selection of any of the 49 AF points. The focusing range in wide angle is from 1.3 ft. (0.4m) to infinity, in telephoto from 6.6 ft. (2.0m) to infinity. The Macro mode covers from 4-inches to 9.8 ft (0.1-3m) in Wide and 3.0 to 9.8 ft (0.9-3m) in Tele. The aperture range is f/2.8-8.0 in wide angle (10 steps) and f/4.9-8.0 in telephoto (5 steps).

The S6000fd is equipped with a low-light focus assist illuminator. This blue-green lamp will illuminate your subject when the ambient lighting gets too low, the effective range is up to 2.4m (wide) depending on subject. The AF assist is not effective when the zoom is set beyond the 6x telephoto position, it works best in wide angle focal lengths.



The focus mode is selected by a button on the left side of the camera body. Rotate the switch to select Single-AF (S), Continuous-AF (AF C) or Manual focus (MF). The center button is used in conjunction with the 4-way controller to select the AF area.



The automatic popup flash has an effective range in wide angle of 2.0 ft to 27.2 ft (0.6 m to 8.3 m) and 6.6 ft to 15.1 ft (2.0 m to 4.6 m) in telephoto with ISO AUTO. Macro flash range is 1.0 to 6.6 ft (0.3m to 2m) at wide angle and 3.0 to 6.6 ft (0.9m to 2.0m) at telephoto. Flash modes available are: Auto, Red-eye reduction, Forced flash, Suppressed flash, Slow Syncro and Red-eye reduction + Slow Synchro. Flash mode is selected with the right button of the 4-way controller.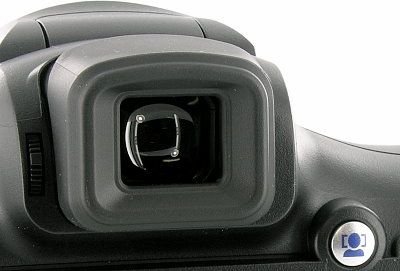 The eyelevel finder is a tiny, high-resolution (115,000 pixels) 0.33-inch color LCD with a magnified eyepiece. It is called an Electronic ViewFinder or EVF for short. It has dioptric adjustment and displays all the same information and menus as the large color LCD display. The EVF/LCD button toggles between the two displays.



On the back is a 2.5-inch color TFT LCD monitor for image preview, review and accessing the camera's menus. The silver button with portrait icon toggles Face Detection on/off. The EVF/LCD button toggles the display screens. The button with magnifying glass icon toggles Digital Zoom on/off. The 4-way controller lets you navigate menus and select images in playback mode. The "Left" button toggles the Macro focus on and off and the Flash modes are controlled with the "Right" button. In the center is the MENU/OK button which toggles the Menu on/off . While ON, the menu selections are navigated with the 4-way and the OK button makes selections. The DISP/BACK button is used to escape from menu operations, in Record selects the LCD monitor information ON/OFF or selects the four framing grid lines, and in Playback toggles between Text display ON/OFF, 9-image index display and 9-image index display by date. The blue "F" (Photo Mode) button is for changing image size/quality, ISO speed and color mode.



On top of the handgrip is the Power / Record / Play switch and shutter release.


Drive mode and Exposure compensation buttons


The Mode Dial allowing you to quickly select from: Auto, Program AE, Shutter priority, Aperture priority, full Manual, Movie, Night, Landscape, Portrait, Natural Light and Anti-Blur.



On the side is the speaker, USB 2.0 port, the DC INput jack for an optional AC power adapter and an Audio-Video Out port allows connection to a TV for playback, the signal format is selectable for NTSC or PAL standard.



The S6000fd is equipped with a xD-Picture Card slot and is supplied with a 16MB xD card. It's compatible with any xD card from 16MB to 2GB.
Approx. Storage Capacities
Power is supplied by four standard AA type batteries, alkaline or NiMH. Using alkaline type Fuji claims you can capture 200 frames using either the LCD or EVF. Using 2500mAh NiMH type you can capture 400 frames with either viewfinder. CIPA standard testing.
We highly recommend the use of NiMH rechargeable batteries - they're reusable, more powerful and will save you money and keeps old batteries out of your local landfill.
Visitors of Steves can visit the stores below for real-time pricing and availability. You can also find hot, soon to expire online offers on a variety of cameras and accessories at our very own Camera Deals page.