Fujifilm FinePix F410 Zoom Review
Fujifilm FinePix F410 Zoom Review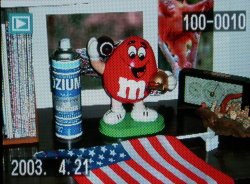 Playback Modes & Menu Options
Some of the LCD screens in this review had to be photographed as there is no video out- port on the F410. LCD monitors were never designed with enough resolution to be photographed. So we hope you understand why these screen captures are not up to our usual standard.



Typical Play mode screen with overlay information enabled. The FinePix F410 does not display the extended image information (shutter speed, aperture, etc.) or a histogram.



Pressing the Up button enables the magnified playback function and depending on the image size there are multiple steps up to a max. of 14.4x. Pressing the Down button steps back out to normal full screen mode. To pan around inside of the magnified image you first press the DISP button.



Pressing the DISP button twice while in Play mode toggles between full screen and index modes. In Index mode you can quickly preview the stored images on the card and display any one in normal full screen mode.



The full motion video movie clips can be played in-camera with the usual Start, Pause and Stop controls. The F410 has a built-in speaker so the audio portion can be heard during playback. Movies and still images can not be displayed on a television set, -- there is no A/V-out port on the camera or on the optional cradle.



Pressing the MENU button while in Play mode will bring up the above screens.
Menu options are:
Erase - Frame(presently viewed), All Frames, Format(card)
DPOF Set Frame - Date ON/OFF, submenu then allows marking pictures for DPOF printing.
Set-Up sub menu - Click here to see options(same as Record Setup)
Voice Memo - ON / OFF, attach up to a 30 second audio clip (WAV format) to the current image.
Up to a 30-second voice memo can be attached to any of your still pictures.

FinePixViewer Software
The FinePix Viewer software lets you view images in the camera, download them to your computer, perform simple editing and manipulation or use the video conferencing features.

FinePix PictureHello Software
Video conferencing or WebCam operation can be accomplished by using the included FinePix PictureHello software and connection the USB cord (provided) or by placing the camera in the optional cradle
Visitors of Steves can visit the stores below for real-time pricing and availability. You can also find hot, soon to expire online offers on a variety of cameras and accessories at our very own Camera Deals page.