Fujifilm FinePix A303 Review
Fujifilm FinePix A303 Review
Review posted 10/09/02

Click to take a QTVR tour of the A303



The FinePix A303 is Fuji's new sleek and stylish, 3-megapixel, entry-level digital camera for 2002. It's one of the slimmest and lightest digital cameras in this category and designed specifically for the first-time digital photographer. The A303's multi-megapixel resolution is capable of generating sharp, richly colored photos and prints up to 11 x 14 inches. It's equipped with an all-glass 3x optical zoom lens and can capture still images and full motion video (without sound) at 10 frames per second in 320 x 240 resolution up to 60 seconds in length.
The FinePix A303 has been designed to consume very low amounts of power and as such it only requires a pair of AA type batteries. Fuji claims about 200 shots with two alkaline cells (flash 50%, LCD off.) It uses the new xD-Picture Card for removable storage. These xD-Picture Cards are designed with fast read/write capabilities for smooth digital camera operations. A 16 or 32MB card can record data at 1.3MB/second. A 64MB card or higher can record data at 3MB/second and both offer a read speed of 5MB/second. The cards are designed to minimize power consumption to lengthen battery life.
It's small and uses very little power but it offers ultra-fast processing speed, the fastest in its class. The A303 has a macro focus mode that lets you capture close-ups from 0.3 to 2.6 feet. And it has a sharp and colorful 1.5-inch color LCD for preview, review or menu operations. It can also function as a PC web cam with the supplied FinePix Viewer software and also comes with ImageMixer VCD for FinePix, DP Editor and Apple QuickTime 5.0.
The Fujifilm FinePix A303 is available now with a MSRP of $349.99 (10/2002).

FinePix A303 Features
3.24 Megapixel CCD for images up to 2048 x 1536 pixels.
3x (38-114mm equivalent) F2.8 optical zoom lens
Seamless 3.2x digital zoom in 640x480 mode
1.5-inch TFT color LCD, approx. 60,000 pixels
Program AE, Manual mode offers exposure compensation
Shooting modes: Still, Movie, Macro
Motion video w/out audio up to 60 secs @ 320x240
White balance selectable in Manual mode
Shutter speeds: Automatic 1/2 seconds to 1/2000 second
64-zone TTL Metering
ISO sensitivity 100 equivalent
Built in flash with Auto, Red-eye reduction, Forced on, forced off and slow-synchro
9-frame and 13x zoom playback function with scrolling
xD Picture Card storage, 16MB supplied
USB connectivity
Powered by two standard AA type batteries
Small (4.3 x 2.8 x 1.5 in.) and lightweight (8.8 oz)
Physical Views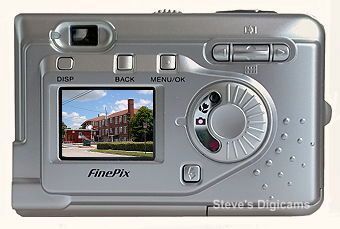 The compact FinePix A303 and a standard CD for size comparison.
FinePix A303 Specifications
Number of Effective Pixels
3.24 million pixels CCD
CCD Sensor
1/2.7-inch CCD (Number of Total Pixels: 3.34 million pixels)
Number of Recorded Pixels
2048 x 1536, 1600 x 1200, 1280 x 960, 640 x 480 pixels
File Formats
Still image: JPEG* (Exif Ver. 2.2)
Movie: AVI (Motion JPEG)

*Design rule for Camera File system compliant / DPOF-compatible

Storage Media
xD-Picture Card 16 - 128MB (3.3V)
Recording capacity
with one 16 MB xD-Picture Card (included):

Still Images (2048 x 1536 pixels - 3.1 million):
Fine: 12, Normal: 26

Movie recording (10 frames/sec w/o sound, AVI format):
320x240:~94 sec's total, 60 sec's per movie
160x120:~5 min's total, 240 sec's per movie

Optical Zoom
Fujinon 3x optical zoom lens
Zoom Lens Focal Length
5.7mm - 17.1mm (Equivalent to 38-114mm on a 35mm camera)
Digital Zoom
3.2x in 640x480 mode
Focus
Auto Focus
Focus Distance
Normal: 2 ft - Infinity., Macro: .3 - 2.6 ft
Aperture
Wide: F/2.8-4.8, Tele: F/7.0-11.6
Viewfinder
Real-Image Optical Viewfinder
Frame coverage: 80%
Exposure Control
64 Zone TTL Metering, Program AE
Exposure Modes
Auto (Exposure Comp. available in Manual Mode)
Shooting Modes
Still, movie, macro
Movie Recording
320x240 (QVGA): Approx. 60 sec. (no sound), 10 Frame/sec.
Sensitivity
ISO 100 equivalent
Shutter Speed
1/2 sec to 1/2000
White Balance
Auto, 6 positions selectable in Manual Mode
Flash Modes
Auto, Red-eye reduction, forced flash, suppressed flash; slow sync
Flash Output
Auto flash using flash control sensor:
Telephoto: 2.0ft - 9.8ft.
Wide angle - 1.0ft - 11.5 ft
Playback Digital Zoom
13x playback magnification (in a 3MP- 2048x1536 image)
Self Timer
10 sec.
LCD Monitor
1.5-inch, TFT (60,000 pixels)
I/O Terminal
USB 1.1 (PC Card Adapter and USB Card Reader are optional)
Power source
2 AA Alkaline batteries (included),
Ni-MH batteries (optional),
AC-3V AC power adapter (optional)
Battery Life
(1/2 exposures w/ flash)
Alkaline batteries:
LCD on: ~150, LCD off:~200
NiMH 1700mAh batt's:
LCD on: ~200, LCD off: ~300
Dimensions
3.8(W)x2.5(H)x1.4(D) inch
Weight
5.1 oz. (without batteries)
Accessories Included
16 MB xD-Picture Card
2 AA-size Alkaline Batteries
Hand Strap
CD-ROM:
USB driver
FinePixViewer
DP Editor
Apple QuickTime™5.0
ImageMixer VCD for FinePix
NOTE: These Specifications are as represented by the manufacturer.
Visitors of Steves can visit the stores below for real-time pricing and availability. You can also find hot, soon to expire online offers on a variety of cameras and accessories at our very own Camera Deals page.