Concord Eye-Q 4360Z Review
Concord Eye-Q 4360Z Review
Record Screens & Menus
Here's the LCD display in record mode with all possible screen icons shown. The actual amount of screen information shown is dependant on camera settings and you can have a perfectly "clear" view by pressing the DISPlay button several times.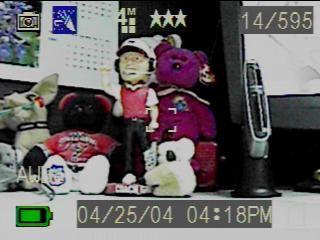 There are 6 pre-defined scene modes available to quickly optimize camera settings for specific shooting situations; they are Party/Indoor, Beach/Snow, Night Landscape, Sunset, Fireworks and Night Portrait. The blue party favor icon at the top of the LCD display indicates Party/Indoor scene mode has been selected.



Movie Mode lets you record 320 x 240 motion video at 30 frames per second, with length limited only by the amount of available memory. There is no microphone so the movies are silent. Using the internal 16MB of memory you can record a total of 56 seconds, using a 256MB SD card you can record ~960 seconds. Movie clips are saved in standard AVI format (Motion JPEG). The zoom can be used to compose the movie before recording, but during recording.



Recording options:
Capture Mode - Single Shot, Single Shot with Macro, Continuous, Continuous with Macro
Quality Setup - Fine, Normal, Economy
Image Size - 2272x1704, 2048x1536, 1600x1200, 1280x960 or 640x480
Scene Selection - Off, Party/Indoor, Beach/Snow, Sunset, Night Landscape, Fireworks, Night Portrait
White Balance - Auto, Sunny, Fluorescent or Tungsten
Digital Zoom - Off, On
EV Compensation - Exposure compensation +/- 1.8EV in 0.3EV steps
The SETUP menu options let you set Auto Off Time (2 or 3 min.), TV Option (NTSC or PAL), specify Menu Language (8 options), Restore Camera Default settings, adjust LCD Brightness, Format memory, Adjust Date and Time, specify Date and Time format, and display Camera Info (Firmware Rev and Date).


Visitors of Steves can visit the stores below for real-time pricing and availability. You can also find hot, soon to expire online offers on a variety of cameras and accessories at our very own Camera Deals page.