Casio QV-R4 Review
Features & Controls
The QV-R4 uses a Pentax 3x optical zoom lens (35mm equivalent 37.5-112.5mm) The maximum
aperture is F 2.6-4.8. The digital zoom is 3.2x. The focus range in Normal AF is
1.3 ft to infinity, in Macro it covers from 5.5 in. to 19.7 in. (14 - 50cm.) The
optical zoom is disabled in macro and fixed at maximum wide angle.
The auto focus system is enhanced with a low-light focus illuminator as seen above.
The eyelevel optical viewfinder is a real-image zoom type with a field of view of approx.
85% of the captured image. It has dioptric adjustment. Two LEDs indicate the flash and
auto focus status when the shutter is half-pressed.
The flash has an effective range of 1.3 - 9.2 ft. (0.4m - 2.0m.)
Flash modes available are: Auto, Red-eye reduction,
Fill flash or Off.
Controls on top are the combination zoom lens control and the shutter release.
And the main power On/Off button.
Controls on the back: Selftimer/Sequential drive button, in playback it functions as the
DPOF button. Flash mode, in playback it's the Delete image button. Macro focus/infinity/
manual focus button, in playback it's the Protect image button. The Preview button
displays the last image captured in record mode, in playback it's the Album
button. The Mode Dial (Playback, Record, BestShot, Coupling Shot, Night
Scene, Manual Record, Movie and Interval mode.) The 4-way selector for navigating menu
screens and selecting images for playback. In the center is the SET button for accepting
selections. The MENU button calls up the onscreen menus. The DISPlay button controls
how much information is displayed on the LCD and also turns the LCD on and off.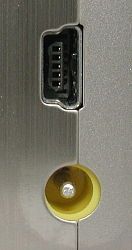 On the side is:


The USB 1.1 port for downloading to the computer


The DC INput jack is for an optional AC power adapter
There is no audio-video out feature.
The QV-R4 has 11MB of internal memory for picture storage and is equipped with a
SD/MMC card slot for additional memory.
It's compatible with any capacity SD or MMC card from 16MB to 256MB.
Memory Capacity
Power is supplied by a proprietary NP-30 lithium rechargeable battery pack. The approximate
battery life is: Continuous recording 120 minutes (720 shots), continuous playback
220 minutes. Battery life is highly dependant on operating temperature and the amount
of time the color LCD or the built-in flash is used. The supplied BC-30 charger takes
approximately two hours to fully charge a depleted pack.
Visitors of Steves can visit the stores below for real-time pricing and availability. You can also find hot, soon to expire online offers on a variety of cameras and accessories at our very own Camera Deals page.