Steve's Conclusion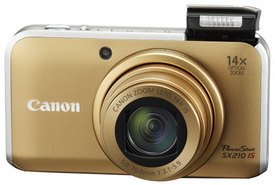 Steve's SnapShot
14-Megapixel Imaging Sensor
3.0-Inch LCD Screen

14x Optical zoom lens: 28-392mm (35mm equivalent)

Smart Auto mode

Face Detection

Li-Ion Battery power source

SD/SDHC memory card compatible

HD (720p) Video Capture with Stereo microphones

Pros
Good outdoor image quality

Generous 14x optical zoom with a nice 28mm wide angle extreme

Large 3.0-inch LCD offers a nice view of your subject(s)
Stylish and well built body
Good High ISO performance for a camera in this class

Cons
Below average shooting performance

Pop-up flash not in the greatest position; easily blocked by your left index finger
Flash Pops up automatically in all modes, which is not always wanted

Non-existent labeling on the 4-way controller
Indoor image quality not up to par with other Canon PowerShot models

Timing Test Results
Power up to first image captured = 2 seconds
Shutter lag when prefocused = almost instantaneous
Shutter lag with autofocus = approx. 2/10 of a second
Shot to shot delay wo/flash = 2.6 seconds
Shot to shot delay w/flash = 4.7 seconds
Sequential burst = .85fps
Sequential burst w/flash = 0.47fps
Bottom Line
The Canon PowerShot SX210 is a stylish compact super-zoom with an impressive feature set. However, shooting performance leaves one wanting more. With good overall image quality, the SX210 is a competitive model in this category.

Pick This Up If...
you're looking for a camera that can fit into a large pocket or small handbag, yet offers a generous zoom and host of exposure options.

Canon has updated their
SX200 IS
from last year with the introduction of the SX210 IS for 2010. This camera builds off the same ideas as the SX200, pack as much versatility into the smallest body possible. Canon has succeeded, as the SX210's specifications list is impressive for a camera of this size. Key features include 14-megapixels of resolution, a 14x optical zoom lens with IS technology, a 3.0-inch LCD, auto pop-up flash unit, 720P HD video mode, Li-ion battery source, SD/SDHC/SDXC card slot, Smart Auto exposure control, and plenty of manual exposure options.
The Smart Auto mode allows the SX210 to be operated by anyone in your household or office with ease. For those who like to have a bit more control, you have access to various levels, from Program AE to full Manual. These options make this camera seem to appeal to a wide range of shutterbugs, whether this is your first super-zoom, or you're an experienced photog looking for a small but versatile digicam.

The SX210 retains a compact body like we saw with its predecessor, however Canon has changed the look and feel a bit as well as made this camera even slimmer. The SX210 is comfortable to hold and operate, once you get use to it. The only thing I think would have added to this would have been a small raised hand-grip on the front of the camera that would allow you to wrap your hand around it more securely. The SX200 accomplished this with a "fatter" right hand side or "wedge" type design. The various controls are well placed across the camera, however I do miss the zoom controls mounted around the shutter release. Canon for some reason opted to use a rocker type switch to the left of the shutter release, which is not quite as comfortable to use for me. Another issue I had was with the 4-way controller. There are no icons which indicate what the Up/Down/Left/Right directions control, even though they all toggle different camera settings. This is going to confuse new users for sure. If you hold your finger on control dial mounted around the 4-way for long enough an on-screen graphic does display showing the available options of the different directions. However, it doesn't pop-up on the screen right away, so it's not much help in my opinion.

The majority of the controls are fit in a tight area on the back of the camera, which is dominated by the large 3.0-inch wide view LCD screen. This screen is the only viewfinder on the camera, and worked well in most lighting conditions; just be careful outdoors as the coating is reflective. I was hoping to see a bit more resolution on this screen, as the display does get a bit grainy when shooting in marginal lighting due to only 230K pixels of resolution.

Like the SX200, this new model offers an automatic pop-up/retract flash unit. When you press the power button, this unit pops out of the body at the top left corner, and when powered down, it retracts back inside. This is a unique system that was very cool when we first saw it displayed. Because the SX210 is not as thick as previous models, I found myself holding the camera in a way that blocked the flash from opening quite often. I also noticed this same behavior when I let some of my family and friends "play" with the camera; which is always good for getting some unbiased consumer feedback. Unfortunately, the only way to get a good comfortable hold on the camera without blocking this flash unit is to move your left index finger down to the "lip" right above the LCD. This helped ensure I didn't block the flash, but was not the natural way I would normally hold a camera of this nature.

The SX210's performance was a mixed bag. While it offers fast shutter lag and autofocus times, it's not quite as fast as past models. Power up to first image captured measured approx. 2.1 seconds if you hold the flash closed or as long as 4 seconds when the flash pops-up and the camera waits for it to charge and fire. Shutter lag, the time from depressing the shutter release and capturing an image, was less than 1/10 of a second when pre-focused and only 2/10 of a second including autofocus. When shooting a sequence of still images, the shot to shot delay averaged 2.6 seconds without the flash off and 3.8 - 4.5 seconds with the flash on, depending on the distance from the subject. You have continuous mode settings to choose from (Continuous, Continuous Shooting AF.) Continuous mode allowed me to capture 10 photos in 18.1 seconds (about 0.55fps) with no buffer slow down, falling short of Canon's claim of 0.7fps. Continuous Shooting AF mode acquires focus for each shot, and performed about about the same speed as the normal continuous capture mode. In both modes, the LCD briefly blacks out, making it difficult to follow a moving subject. Switching from record mode to playback or vice versa takes about a second. All of our tests were done using a Sandisk Ultra II 4GB SDHC memory card, with the image size/quality set at Large Fine, Program mode, ISO Auto, preview off, flash off, with all other settings at default (unless otherwise noted.) Times may vary depending on lighting conditions, camera setting, media, etc.
Our image quality results when shooting outdoors were pleasing. Our typical subjects show the SX210 can capture clear images with good exposure and accurate color reproduction. There is very little edge softness in our photos, however I did see a decent amount of CA (Chromatic Aberrations aka purple fringing) in our photos. We used Smart Auto for most of our photos, which produced good results, and easily identified our scene correctly. The 14x optical zoom is a great addition on this camera, especially when you consider that it boasts a nice 28mm wide angle extreme. This means you will be able to capture nice group photos, vast landscapes as well as have little trouble when shooting in small rooms. On the flip side, you will have the magnification power to really get in tight on your subject or bring distant objects up close and personal. Overall, it's impressive that Canon was able to squeeze this lens into the SX210's body.
Indoors, I was not near as impressed with the SX210. The flash has a very limited range of approx. 11.5 feet at wide angle using ISO Auto. I found that if you are using the lens to crop in for a nice individual portrait, you'll want to shoot within 4-5 feet when using ISO 200 or less. Our indoor portraits were just average. Whether I was using Smart Auto, Program or Aperture priority, the camera just did not produce people photos with sharp facial detail. When using the flash, I also noticed a White Balance issue. Images with the flash are much warmer than I would like, giving your subjects an unnatural skin tone. This is something you could correct by using a custom white balance setting, however I don't see many users actually taking the time to do this. I also noticed that the camera does not control the flash well when using its macro capabilities. You can see our macro example on the samples page, which is pretty blown out from the flash. I will say however, that I was impressed with the SX210's image stabilization system. It allowed me to capture our available light portrait at only 1/10 of a second hand-held, and the image is still quite usable.
Imager noise is handled well on the SX210 for a consumer point-n-shoot. While you can see traces of luminance noise at even the lower ISO settings when viewing photos at 100%, the camera's processor does well at keeping levels down as you increase the sensitivity. I feel that even the maximum ISO 1600 setting is able to produce usable photos for small to mid sized prints. At ISO 400 you will start to see some detail loss from the noise reduction, which is amplified as you increase the ISO. However, like I mentioned before, the higher (ISO 800 and 1600) settings still look quite usable.

HD video capture is pretty much an industry standard now, with most cameras boasting a 720p (1280x720) option. The SX210 allows you to capture video at 720p, VGA (640x480) or SVGA (320x240) resolutions. Each setting uses a fixed frame rate of 30fps. The SX210's video quality results were average at best. It captures smooth video with good audio thanks to the stereo microphones. I saw an average amount of noise in our videos, and the mics seem to pick up even a slight breeze due to their position on the top of the camera.

Canon continued the use of Li-ion battery pack on the SX210. I prefer this type of pack over traditional AA type cells as they offer better battery life, increased shelf life, and better charge memory when compared to NiMH rechargeable cells. Canon claims you can capture up to 260 photos on a single charge, which sounds about right after our tests. I shot about 200 still photos, and recorded 25 or so short video clips along with most of our other tests before having to top off the battery to finish up our review. This should get you through a normal day of shooting, however if you are planning a vacation, birthday, etc., I recommend picking up a second battery pack to keep charged and ready at all times if your budget allows.

Bottom line - Canon's PowerShot SX210 IS was an interesting camera to work with. While its specification and feature lists are quite impressive for the camera's size, I was not totally blown away by it's shooting performance or image quality results. That's not to say the camera doesn't produce pleasing photos, there's just not much improvement over the SX200, if any in the image quality department. The pop-up flash is something that I can see becoming an aggravation too, especially since you have no control on whether or not it will pop-up upon powering on the camera; luckily you can just hold it shut, but I'm not sure that's going to be good on the mechanism in the long run. With an average street price of $349US the SX210 is competitively priced in the compact super-zoom category. We recommend looking over it's competitors closely before making your final decision; such as the the Kodak EasyShare Z950 and Panasonic Lumix DMC-ZS1 to name a few.

Visitors of Steves can visit the stores below for real-time pricing and availability. You can also find hot, soon to expire online offers on a variety of cameras and accessories at our very own Camera Deals page.