Canon Powershot A70 Review
Canon Powershot A70 Review
Features & Controls
The A70 features a 3X (35-105mm in the 35mm format) f/2.8-4.8 all-glass aspherical zoom lens. When the camera is powered down the lens is retracted inside of the body and a built in shutter closes to completely protect the lens.
An advanced TTL AiAF five-point autofocus system permits the camera to automatically select the primary subject even when off-center. Focusing range is 1.5 feet to infinity in normal mode and macro coverage is 2 to 18 inches in wide angle and 10 to 18 inches in telephoto. In low light conditions the focus-assist lamp (see above) helps to illuminate the subject for accurate focusing.



Attaching auxilliary Canon lenses couldn't be easier. Press the button and remove the dress ring, attach the optional LA-DC52C Conversion Lens Adapter and then the Canon WC-DC52 0.7x Wide Converter lens, TC-DC52 2.4x Tele-converter lens or the 250D Close-up Lens.
The LA-DC52C adapter also allows the use of any 52mm filters or lenses.



The built in flash offers Auto, On, Off, Red-Eye Reduction On or Auto. Flash range is 1.5 to 14 ft. in wide angle, 1.5 to 8.2 ft. in telephoto or 10 in. to 1.5 ft. in macro mode. The AF-assist lamp also serves as a red-eye reduction lamp (see first picture above.)



You can frame your pictures with the color LCD or to save precious battery power you can use the optical eyelevel finder. This is a coupled viewfinder with approx. 82% coverage. It has no dioptric adjustment. Next to the finder are two LEDs that indicate the flash and focus status.



On the top you'll find the On/Off button, the shutter release with the zoom lens control mounted around it. In playback mode the zoom lever functions as the index and magnified image control. The Mode Dial with positions for: Manual, Aperture priority AE, Shutter-speed priority AE, Program AE, Portrait, Night, Fast, Slow, Stitch-Assist and Movie. See the next page for more information about the exposure modes.



In the upper right is the Play / Record switch. The 4-way controller lets you navigate menus and select images during playback. In record mode you press "Up" to change metering mode, press "Right" to change flash modes, press "Down" to change the drive mode and press "Left" to change the focus mode. Buttons under the LCD (left to right); the SET button accepts menu selections, the MENU button calls up and dismisses the menus, the DISPlay button turns the color LCD on/off and controls the amount of data displayed on it, the FUNCtion button gives you access to many settings (Exposure compensation, white balance, ISO, Color effects, image quality and image size.), it also functions as the image delete button in playback mode.
See the next page for more information about the Record mode menus.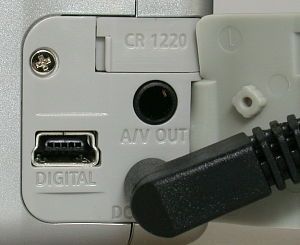 The I/O ports: AV Out handles monaural audio and video to connect to a TV set with the supplied cable. The DIGITAL port connects USB to the computer for image download and camera control with the supplied RemoteCapture software. It also allows for Direct printing to Canon Card Photo Printer CP-100 and letter-size S820D, S830D, and S530D photo printers. The DC IN jack is for the optional AC power adapter or an external battery pack.
Also tucked away in here is the CR 1220 memory battery that maintains the clock, calendar and camera settings when the main batteries are removed.



The Powershot A70 is equipped with a Type I CompactFlash card slot and comes with an 16MB CF card. It can handle any capacity CF Type I card.


Size/Quality
File Size
(KB)
Resolution
(pixels)
8MB
16MB
32MB
64MB
128MB
256MB
Large / SuperFine
1,602
2,048 x 1,536
4
8
18
38
76
154
Large / Fine
893
2,048 x 1,536
8
16
33
68
137
276
Large / Normal
446
2,048 x 1,536
16
32
67
136
274
548
Medium 1/ SuperFine
1,002
1,600 x 1,200
7
14
30
61
122
246
Medium 1/ Fine
558
1,600 x 1,200
13
26
54
109
219
440
Medium 1/ Normal
278
1,600 x 1,200
26
52
108
217
435
868
Medium 2/ SuperFine
570
1,024 x 768
12
25
53
107
215
431
Medium 2/ Fine
320
1,024 x 768
23
46
94
189
379
762
Medium 2/ Normal
170
1,024 x 768
42
58
174
349
700
1,390
Small / SuperFine
249
640 x 480
29
58
120
241
482
962
Small / Fine
150
640 x 480
47
94
196
393
788
1,563
Small / Normal
84
640 x 480
83
165
337
676
1,355
2,720
The A70 is powered by four standard AA-type batteries, alkaline, NiMH or lithium cells. Canon claims approx. 250 shots/approx. 800 shots (LCD monitor ON), approx. 350 shots/approx. 1000 shots (LCD monitor OFF). Playback Time approx. 280 min/approx 280 min. The first time is calculated using alkaline cells, the second time is using 1700mAh (or better) NiMH rechargeable cells.
Canon offers a battery and charger kit CBK100 that includes four NiMH batteries. The A70 can also be powered by the AC Adapter Kit ACK600 for unlimited runtime from your wall outlet.



For all-weather protection and use underwater to depths up to 100 feet, the WP-DC700 Waterproof Case is just the ticket. Works with Powershot A70 and A60 models.
Visitors of Steves can visit the stores below for real-time pricing and availability. You can also find hot, soon to expire online offers on a variety of cameras and accessories at our very own Camera Deals page.